Glass tanks are popularly used as enclosures for pet Bearded dragons. They are easy to obtain, relatively easy to set up and make for excellent vivariums.
Popular enclosures used to house Bearded dragons include cabinets and glass tanks – each with its own set of pros and cons. Glass tanks, mainly purposed for aquariums, can be transferred into beautiful, themed Bearded dragon vivariums. Also, see Bearded dragon aquariums for more information. The correct size glass tank can house one or a couple of Bearded dragons and, with a little imagination, can be transferred into a little artificial desert environment.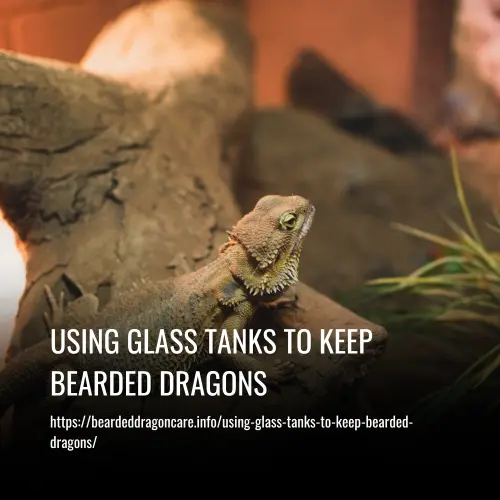 Glass tank sizes
Depending on your area, glass tanks will either be available commercially or as custom-made ones. Commercial glass tanks will come in various sizes. A 40 gal / 150 ℓ / (91 x 46 x 43) cm / (36 x 18 x 17) " glass tank, should be large enough for a single adult Bearded dragon, and a 55 gal / 200 ℓ / (122 x 33 x 53) cm / (48 x 13 x 21) " tank should be adequate for an adult pair. The floor space should increase by at least 25% for every Bearded dragon added after that.
Glass tank placement In Your Home
When it comes to glass tank placement in your home, size matters. You need to choose a spot that is big enough to accommodate an appropriately-sized tank for your bearded dragon. Additionally, you should consider factors like sunlight, proper ventilation, temperature, and humidity when deciding where your tank will go. You'll also want to consider:
Pets and Children
If you have other animals or small kids in your home, it is important to ensure that the bearded dragon's tank is kept far away from them. It is possible that cats, dogs, and small children could accidentally topple over the tank if it isn't set up safely. Not only would this cause serious injury to the bearded dragon inside, but it also poses a potential threat to other pets and/or children who may be nearby.
For that reason, it's important to make sure that your tank is placed on stable ground and away from any curious little fingers or paws! Taking these precautions will keep everyone safe and sound, and give your bearded dragon peace of mind as well.
Day and Night Cycle
The day and night cycle is an important factor to consider when keeping a bearded dragon as a pet. It's essential that the tank be placed in a room that can become completely dark at nighttime in order to ensure your pet gets sufficient quality rest. Any lights left on near the tank during the night can disturb their sleep.
For instance, having the tank located in a home office may not be ideal if you work late at night since even the soft glow of a computer screen can hinder their sleep. Therefore, it's best to make sure any nearby lights are off before they go to bed or find a spot that's already designed for darkness.
Noise
Noise is a major consideration when selecting the ideal spot for a bearded dragon's tank. A quiet environment with minimal disturbance should be sought. The living room might not be the best choice if there is often a lot of noise from the television or other activities taking place there.
Traffic noise, too, can be an issue and your pet may become distressed if exposed to it for long periods, so choose an area away from all external noise sources. It's important to take into account how noisy things can get in your home; even small everyday noises could make your beardie anxious, so select a spot based on how peaceful and relaxing it is – because that's what your friend needs!
Humidity
Humidity is essential to the health of a bearded dragon. If they live in a dry environment, then they will thrive. On the other hand, excessively humid climates can cause various health problems for these reptiles.
Therefore, it is important to make sure that you check and monitor the humidity levels in their habitat regularly.
Access
When it comes to keeping a bearded dragon tank, access is everything. It's essential that you're able to get into the tank at least once a day, so make sure you position it somewhere that's easy for you to access, but not for any other pets or children.
Ideally, you want your bearded dragon tank in a spot that is away from direct sunlight and dark at night, dry and quiet. However, if the perfect location doesn't exist in your home, don't worry! It's more of a guideline than the hard and fast rule – as long as you can keep the tank out of direct sunlight, which is an absolute must-have for reptiles like dragons, then with some creative adjustments, you can still create an optimal environment.
Create a Hot Side and a Cool Side
A bearded dragon's tank should have two areas of different temperatures – a "hot" side and a "cool" side – so that they're able to regulate their body heat better. The warmer side of the tank should have a heating mat and basking lamp while the cooler side should feature a water dish.
Having three thermometers placed around the tank can provide a visual representation of both sides, helping you better adjust and accommodate your bearded dragon for optimal temperature. The first two thermometers are for the "hot" and "cool" sides respectively, while the third should go in the middle of the tank to monitor that location's temperature as well.
Using these thermometers on both sides will give you all the information you need to make sure your pet has a comfortable environment with the perfect mix of hot and cold temperatures!
Proper Lights, Heating, And Humidity
Having a bearded dragon tank setup with proper lights, heating and humidity are essential for your pet's health. As bearded dragons are cold-blooded, they rely on their environment to provide them with the necessary body heat. You must therefore use lighting and heating devices to give them the best possible living conditions that resemble their natural habitats.
To achieve this, you will need the following items: a UVB lamp (or a heat lamp with a UVB bulb) to imitate day-time light; a ceramic heat emitter to maintain a steady temperature; a basking lamp for additional warmth; a thermometer to monitor temperature; and finally, a hygrometer to monitor humidity levels. All of these items will ensure your bearded dragon can live in as much comfort as possible, while also providing a level of safety and protection.
Heating and lighting
Being desert animals, Bearded dragons need proper heating and lighting equipment to create an optimal environment. Fortunately, overhead heating and lighting are recommended for Bearded dragons. Unlike with cabinets, mounting holes cannot be drilled into the glass, which makes mounting these a little trickier. Another limitation of glass tanks is their height, which often does not allow the required 30 cm / 12″ distance between the ultraviolet lighting and the main basking area of the enclosure. Also, see creating a basking area for Bearded dragons for more information. Note: Electricity and the use of electrical equipment pose potential dangers to humans and pet Bearded dragons. Electrical equipment should only be installed by an experienced person. In some countries, legislation might state that only certified electrical engineers are allowed to work with high-voltage electrical equipment.
To overcome most of the heating and lighting limitations, a lid with a mess cover and electrical lamps are used. Apart from allowing the movement of air (see ventilation below), meshed caps are perfect for supporting lamp structures on top of them. Heat lamps are strategically placed on one side of the tank (usually on the side of the basking area), with the ultraviolet lamp close to it. Make sure that the mesh is firm enough to carry the weight of the lamps and that the heat emitted cannot, for example, melt the mesh.
The basking area can be raised by creating a ramp or platform or using tall or stacked rocks.
Ventilation
Similar to heating and lighting limitations, gas tank users are often confronted with creating proper ventilation. Ventilation openings, popularly installed as grills on the side of Bearded dragon enclosures, allow for the escape of hot/used air and give way for fresh/cooler air. This is where a proper mesh lid comes in once again.
Substrate and furniture
Unlike cabinets, tanks have floors that are made from glass. Apart from not being able to drill holes in, glass can easily crack when heavy objects (e.g. basking rocks) are placed or dropped onto it. The same goes for unstable furniture and falls over.
To make the glass floor a little less fragile, a deep, bulky substrate can be used. Newspaper is often used to separate the glass and substrate layer. Deep layered substrates will act as some degree of shock absorber and can be used to hide cables.
Decor
When it comes to decorating your bearded dragon's enclosure, there are some key elements you should include for an environment that will keep them stimulated, comfortable, and happy.
Basking rocks made of natural materials help to ensure the temperature is just right. Tunnels, hideaways, and plenty of items to climb on make it easier for your beardie to feel safe. Artificial plants can help build up a sense of familiarity for our scaly friends, while hammocks create a great spot for them to lounge in.
Live plants can be included too, which provide an interesting addition that stimulates the dragon's senses. However be aware that these can affect the humidity levels in their tank so use a hygrometer often and make sure only safe plants such as Aloe vera, herbs like rosemary or parsley, Turtle vine, succulents such as echeveria and haworthia or Prickly pear cacti (with spines removed) are present in their home.
FAQs
Can I use a glass tank for a bearded dragon?
Bearded dragons are content with any type of enclosure, but the most common choice for owners is a glass aquarium. This is because they are relatively inexpensive, widely available, and come in various sizes.
Can bearded dragons climb up the glass?
From time to time, bearded dragons and other reptile species tend to engage in a peculiar behavior known as glass surfing or glass dancing.
Why is my bearded dragon going crazy at the glass?
Glass surfing may be caused by stress; bearded dragons can become overwhelmed for various reasons, such as an enclosure or tank that is too small for them or the presence of another bearded dragon, which may be seen as a competition.
Conclusion
In conclusion, using glass tanks to keep bearded dragons is a great way to bring these fascinating and friendly creatures into any home. They require minimal maintenance and care and can bring joy for years with their friendly personalities.
Not only do they make great pets, their beauty is sure to be something that everyone can appreciate. Plus, once you've got the tank set up, you won't have to worry about replacing or cleaning it for a long time. So go ahead and get your own bearded dragon's new home set up today!